Posted By:

jenifer

Comments:

0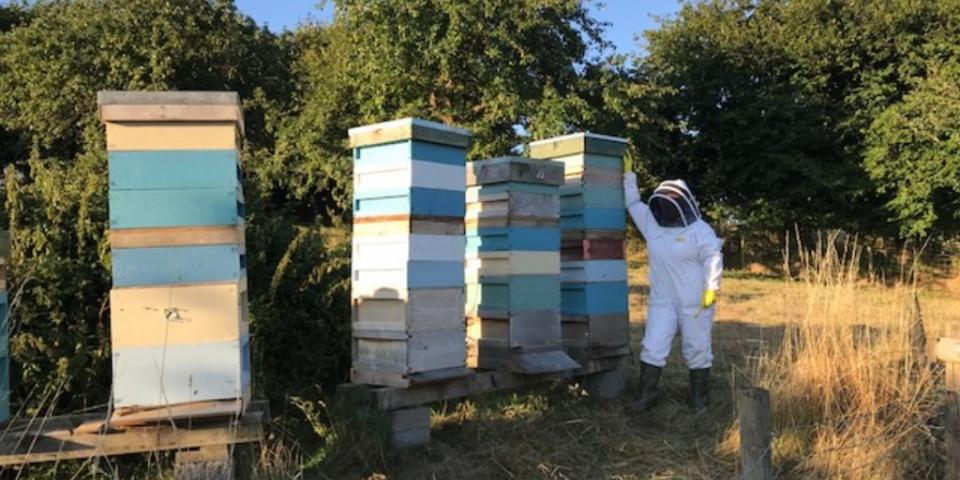 Have had an amazing weekend helping a beekeeping friend to take off supers from her colonies. There's me with my three hives thinking that was hard work!
It all started on the Friday when I asked Jan if she needed any jars as was about to put in an order with C Wynne Jones this week. To cut a long story short, I volunteered to give a helping hand as she mentioned the supers were difficult to take off, especially on her own. How high were they?
At this time of year, the boot of the car seems to have a fair amount of beekeeping equipment in it and also happened to have a clean beesuit in the back so said I would drop in after work.
"So how many colonies do you have Jan?" is a question I remember asking as we strolled up to the top of her garden where I counted 15 (I think). This was going to be quite a job, although I must say, not all of them were super stacked that needed an extra pair of hands. Armed with a ladder, clearer boards and hive tools we set to work.
Over the course of the weekend, Jan took me along to each of her apiaries where we worked quite well as a team to check the supers and pop clearer boards underneath ready for us to return the next day to remove them. She has over 40 colonies and it was evident on our trip round to them that she has the bees best interests at heart and doesn't take too much honey from them leaving the colonies short of stores.
On Saturday, we enjoyed a well-earned afternoon break sat in an orchard where one of Jan's apiaries is just watching the bees going about their business. It brought back lovely memories of me as a young girl going out on long cycle rides with my twin sister stopping off for picnics in the countryside. Refuelled and watered, it was off to the next apiary before calling it a day and meeting up again on Sunday.
I can't remember which of the two days was the hottest, but there were supers to be taken off, so you can imagine what it must have been like all dolled up in our beesuits!
We had a couple of trips back to Jan's to drop off a car load of supers and again we sat in another one of Jan's apiaries to take a break. The sky was blue with not a cloud to be seen and the view was stunning as we cast our eyes over to the hills in the distance. What it is to be a beekeeper with such wonderful surroundings and in good company. We could have sat there for longer, but we hadn't finished, so up we got and brought back the last of the supers.
I can honestly say that this experience has been one of the best of my beekeeping years. It also touched me personally and feel I've found a kindred spirit in Jan. I also learnt a lot too... don't forget to zip up your beesuit for one! But also learning from watching and experiencing what other beekeepers do.
Zero stings and a big grin on my face when I got home says it all really. Thanks Jan.
Roll on next year Jan... I'll be knocking on your door to lend another hand!