Posted By:

jenifer

Comments:

0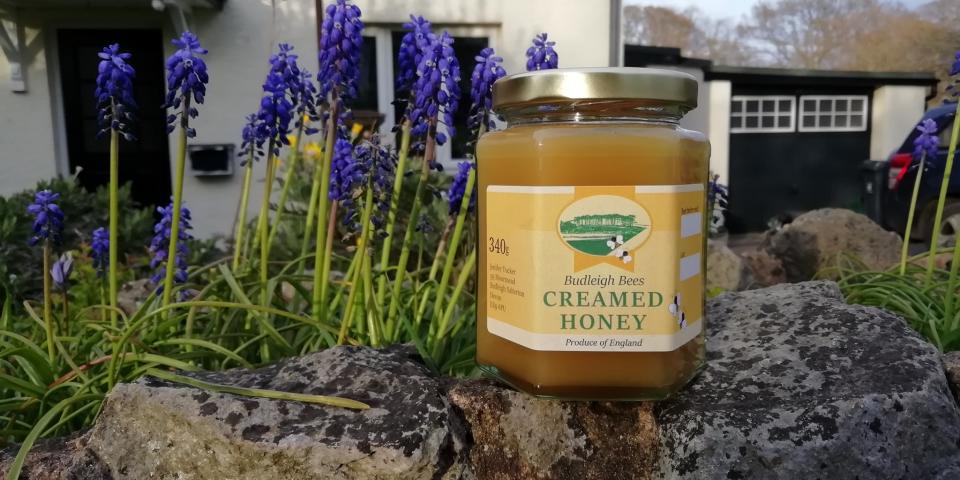 It's been a while since I last sat down and put fingers to the keyboard, but what better way to start than introduce my creamed honey (also known as set honey) that I now sell from the door!
My beekeeping journey started in May 2016 and I love soft set honey, especially when it's spread over hot toast. Or if I really want to spoil myself, then it's a fresh scone, clotted cream and a spoonful of honey. Absolutely delicious. I've since learnt that this is called Thunder and Lightening. Not sure why, but it beats a Devon or Cornish cream tea.
To get the honey silky smooth takes a few days with a fair amount of stirring. There are lots of videos on YouTube and alike that shows you can make set honey relatively quickly. But for me, slowing down the pace and letting the honey gently set is a far better way - there's no rush.
So how do you make creamed honey? First you need what's called a seed. You will need at least 10% of the seed honey to mix into runny honey that has been gently warmed to a point where any crystals have melted out. Honey granulates naturally, and it's the large granulated crystals that are being removed by warming. This warming is very different to the honey bought in supermarkets that is subjected to high temperatures to produce a consistent looking product on their shelves.
The seed honey is then gently stirred into the runny honey until it is silky smooth. Over the next 2-3 days, I gave it all a stir and as it started to thicken, I poured it into jars to then spend another week sitting in a cool place to set further. With the temperature quite cold at the moment, it's ideal for creaming honey.