Posted By:

jenifer

Comments:

0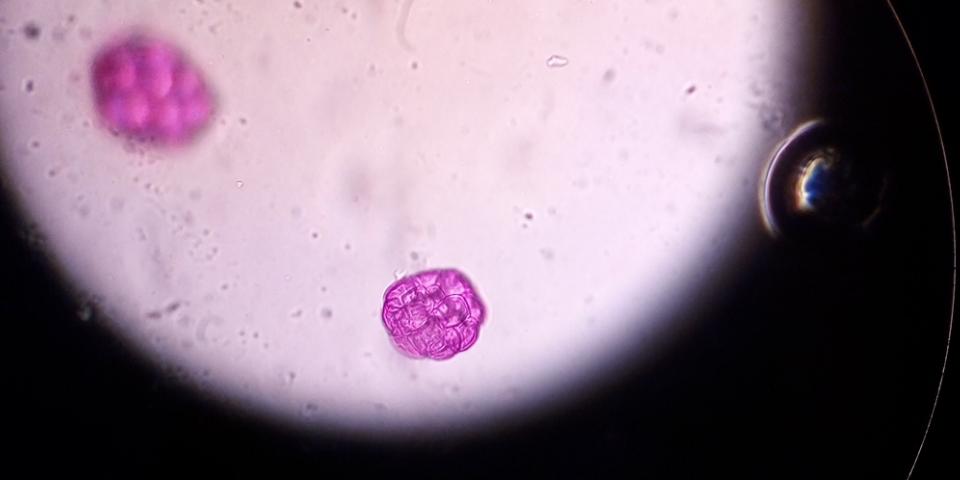 As we start thinking about our spring preparations and making sure all our bee equipment is ready for the season, how many of us look around us to see what is in the larder for our bees at this time of year. Again, the weather has been unseasonal with a few days of warm weather thrown in. The girls have been out flying using up vital energy which means they will be depleting stores within their hives with not a lot for them to bring back in the way of nectar.
A good sign that the queen is starting to lay is the return of workers loaded with pollen in their baskets. Over the weekend I watched them bringing in yellow and orange pollen from crocus and snowdrops.
I am fascinated by the different colour pollens and looking through the list of diary dates in the back of the latest beekeeping magazine for Devon, I spotted Newton Abbot Beekeeping Association was running a pollen microscopy day. With myself booked in and a vase full of blossoms that are out in bloom around where I live, off I went to their Clay Lane apiary where I was warmly welcomed. With tea and cake flowing, we settled in our seats to listen to Graham Kingham give a fascinating talk on pollen before it was our turn to have a go at making up some slides and looking at pollen grains under the microscope.
In groups of three, we learned how to prepare the pollen. Each of us chose a different flower as we wanted to see the different pollen grains. The flower I selected was of Mimosa that is out in abundance here in Budleigh Salterton and with such a buzz in the air when the honey bees have been out flying, they are certainly working hard to fill their pollen baskets.


Mimosa (Acacia dealbata) with its yellow scented flowers.
Carefully staining the pollen with pink dye and preparing the slide was fairly tricky when doing the very first time but all that was worthwhile to see what awaited you through the lens of the microsope. Not a bad result for a first attempt!
I am definitely hooked on learning more about pollen microscopy.