In:

Posted By:

jenifer

Comments:

0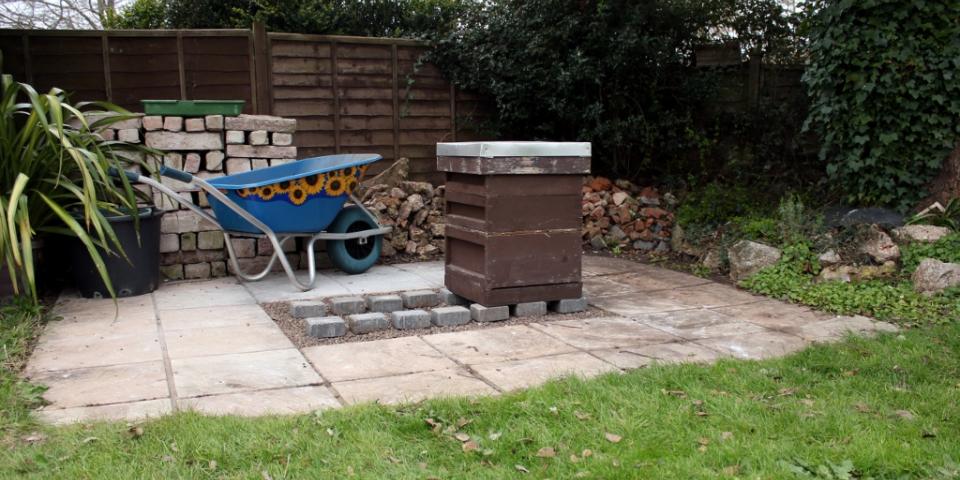 Right. I've gone and got myself a beehive so need to get a wriggle on to finish off the patch of garden where the apiary will be. Easier said than done when it involves moving heavy blocks of concrete, broken up paving slabs, a heap of old bricks, a stack of old plasterboard sheets and wood pile. Not a job to be done in 5 minutes - time to roll up my sleeves!
Day 1: Started by moving the old wall blocks into a neat(ish) stack by the fence at the back and then got on with breaking up the plasterboard and bagging it up to take to the local recycling centre. It didn't take very long at all to do this because most of the plasterboard sheets were damp and it more or less fell apart. Once that was done, it gave me some space to get to the wood and move it round to the composting area to board up the compost sections. This part of the garden seems to have been laid with paving slabs with a small garden in the middle. Not quite sure what the previous owner had planted there, but it's certainly useful now as a level base for the apiary with plenty of space to walk around.
A couple of weeks ago a fledgling robin joined its parents in the garden and throughout the day they all came along and helped by picking up the grubs and insects for quite a feast. Nature is such a beautiful thing. Look around you and there is always something that will catch your eye. The robins were within touching distance and there were plenty of opportunities for me to take a break and just watch them coming and going.
Day 2: Did a bit more and started breaking up the concrete and bricks which you can see behind where the beehive is sitting that will eventually be used as a base for a patio at the back of the house... another project. Getting back to the task in hand, it was physically demanding but everything needed to be cleared because I want to put in a raised border sweeping round to the Eucalyptus tree, which happens to be a good source of nectar and pollen for bees. Not sure which will come first - the raised border or the bees - but at least everything is beginning to take shape.