Posted By:

jenifer

Comments:

0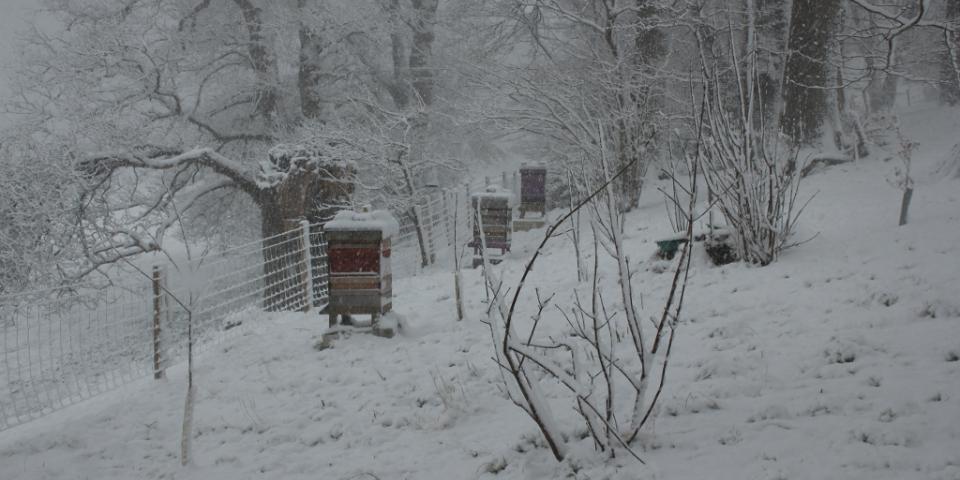 With the first day of (astronomical) spring just days away, the cold snap that's being called the 'mini-beast from the east' has brought more snow this weekend which apparently has been caused by high pressure over Scandinavia causing the unseasonable weather conditions here in the UK.
Today I was planning to treat one of my colonies with oxalic acid having checked the daily mite drop the previous week. However, the change in weather has put a stop to that because it's too cold for treatment as the colony will be clustering tightly. Looking again at the 14 day forecast, the coming weekend looks more promising so I've decided to wait until then.
I still went up to the apiary today to check the entrances are clear as well as check on the amount of stores each colony has to sustain them for the coming week.
My partner, Dave, came along with me as did Paddington our lovely dog who enjoyed himself immensely in the deep snow playing snowballs!
I was surprised to see that the one colony I fed fondant to yesterday had almost taken all that was in the takeaway container. I wasn't expecting that to happen so quickly after 24 hours. I'm wondering if they are taking it down to store or were they in desperate need of food? Something for me to do some research on to find out.
There's not much beekeeping I can do at the moment, other than to regularly check on the colonies, so it's back to my studying. I've finally got round to registering for Module 3: Honey bee Pests, Diseases and Poisoning and am looking forward to learning more about honey bees with my goal to sit the exam in November this year.