Posted By:

jenifer

Comments:

0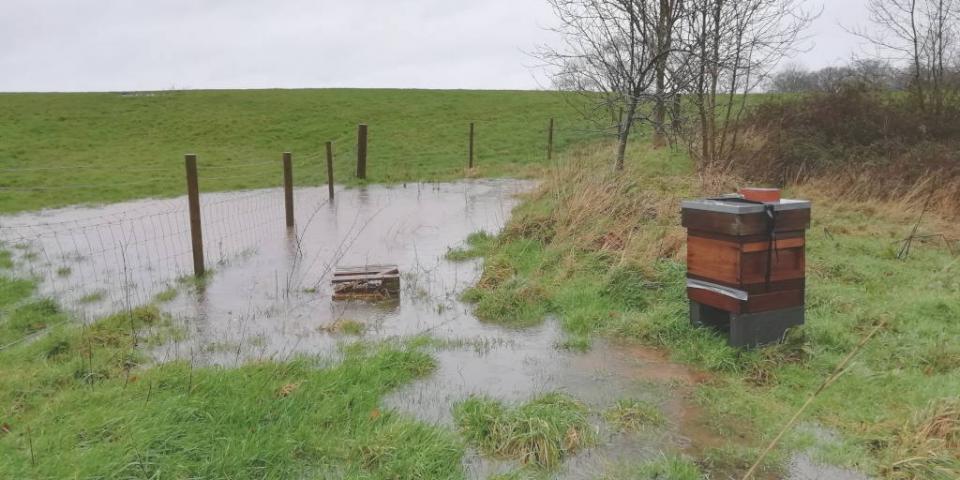 When choosing an apiary site, there's a list of things we need to consider to make sure it fits the criteria for both the bees and the beekeeper. However, when you think you've chosen well, along comes Storm Ciara and Storm Dennis and makes you rethink.
Off the top of my head the criteria includes:
Accessible by vehicle
Sufficient forage to sustain the bees
Adequate water supply nearby
Shade to avoid hives being in full sunshine all day
Not close to public footpaths
Flight paths of bees a safe distance from people and animals
Not in an area susceptible to flooding
Enough space in the apiary to prevent overcrowding.
Last year I set up a new apiary site on top of a hill with a view across a pond – ideal spot you would have thought.
With the jet stream causing havoc with our weather, we've had so much rain I've been checking my two apiaries every week to make sure all is well. Last week, I walked up the hill to see the bees by the pond and noticed water creeping closer to one of the hives.
So far, the solid breeze blocks are holding up and the hive seems stable but I'll be keeping a watchful eye over the coming days.
One thing I've learnt this winter when looking for a new apiary site, is don't go on what you see in the summer months, but take your time and go and see the site in the later months as two things are clear:
Accessibility by car is not always possible due to the wet and muddy conditions.
Areas near ponds can be prone to flooding so check there are no significant dips in the ground that could cause water to collect in heavy rainfall.
Roll on the spring with hopefully plenty of sunshine for the bees to go out foraging.