Posted By:

jenifer

Comments:

0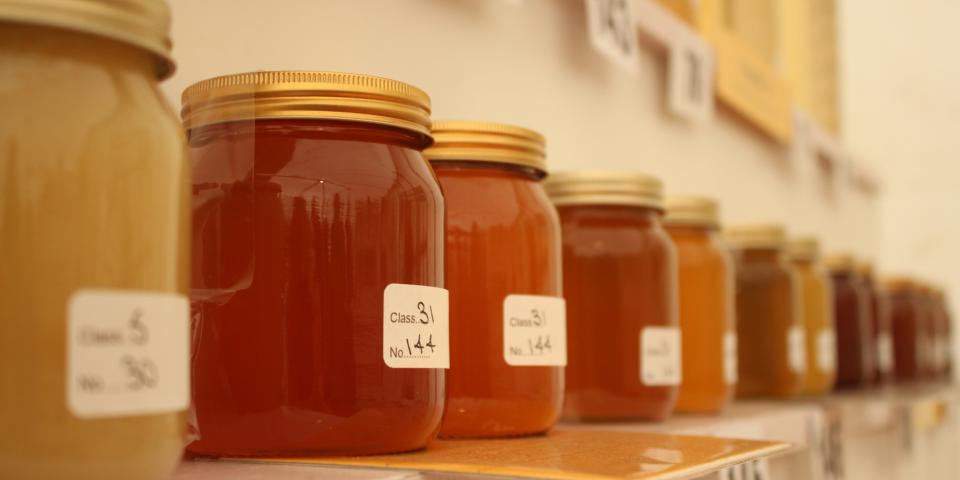 Who could resist a taste of honey, especially when a spoonful is offered to you sitting on top of a scone with clotted cream (Devon cream tea style)! This was the Devon County Show and this is where I volunteered to help in the Devon Beekeepers Association marquee. Pardon the pun, but the place was buzzing with people who would certainly have left the marquee knowing a lot more about bees - and hopefully a thought on what they can do in their own daily lives to help bees, whether it be planting more bee-friendly plants in their gardens or eventually becoming beekeepers themselves.
As you walked into the marquee there were beekeeping supplies to be bought, interactive games for the kids aimed at educating them about bees, displays of beehives from the tranditional style (known as WBCs) through to the modern (honey on tap style), microscopes for you to see the intricate details of bees and pollen, live bee handling demonstrations, as well as live demonstrations of hand-weaving skep baskets. The two observation hives drew hundreds in to watch the incredible daily lives of the working bees.
On the first day of the show, my help was on the candlemaking stall and this turned out to be a big hit with the kids. You could see their eyes light up with the vibrant colours of the sheets of beeswax they could choose from to make their candles. What a wonderful introduction to these youngsters, some as young as 2 years old, having a go at rolling their own beeswax candles and taking them home.
If that wasn't enough, there were displays of cakes made with honey, flower arrangements, jars of beekeepers' honey all wanting that first prize in the classes they had been entered.
With all that honey-enriched food to see, before you left the marquee, there was the tasting of honey to be had and that's' where I helped out on the last day of the show. I must admit that I've never thought of making a Devon cream tea style scone by replacing the jam with honey. What a game-changer! From now on, my Devon cream teas are definitely going to be topped with that magical substance made by our wonderful bees - honey.