Posted By:

jenifer

Comments:

0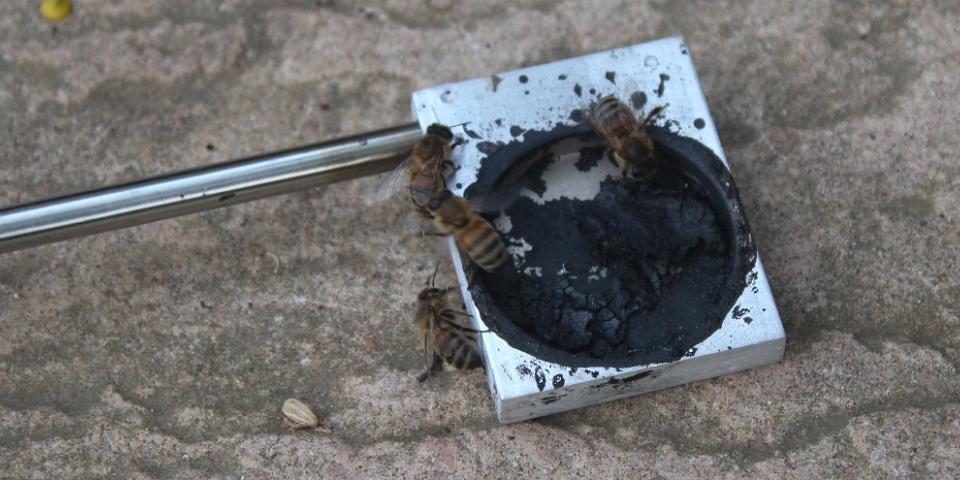 Three weeks ago, I wasn't looking forward to the job in hand - that of treating the girls with oxalic acid - to try and bring under control the high level of varroa mites that Lizzie and her family are carrying... literally! The worry of vapourising the colony, as a new beekeeper, is quite daunting when you've never done something like this before. The way I looked at it was I had to be cruel (to the mites) to be kind (to the bees). So how are they doing?
This morning I carried out the third dose of Api-Bioxal not knowing what the total mite drop on the board had been the previous week because I had just taken it out and could see right there that it wasn't a heavy drop like there had been after the first week. Four days into keeping the board in place, my curiosity again got the better of me and I took a sneak look to see how things were going. My heart sank when I saw a blob of white/grey powder sitting on the floor of the board. This meant that the girls hadn't received a full dose during the last treatment. This put me in a dilemma - do I treat again now or wait and carry out as planned? Decisions, decisions... As you can see, I decided to stick to my plans. Even with looking early, it was clear that some of the oxalic acid had vapourised and I didn't want to harm my girls any more than I might already be doing.
So, counting the results of the varroa board this evening, the Lizzie and her family are 400 varroa mites lighter than they were last week.
This may turn out to be their best Christmas present!
Results:
1 December Api-Bioxal - Vapouriser
Board removed 7 days later (8 December)
Varroa count: 1,600
8 December Api-Bioxal - Vapouriser
Board removed 7 days later (15 December)
Varroa count: 400
15 December Api-Bioxal - Vapouriser
Board removed 7 days later (22 December)
Varroa count: 18
Related articles