Posted By:

jenifer

Comments:

0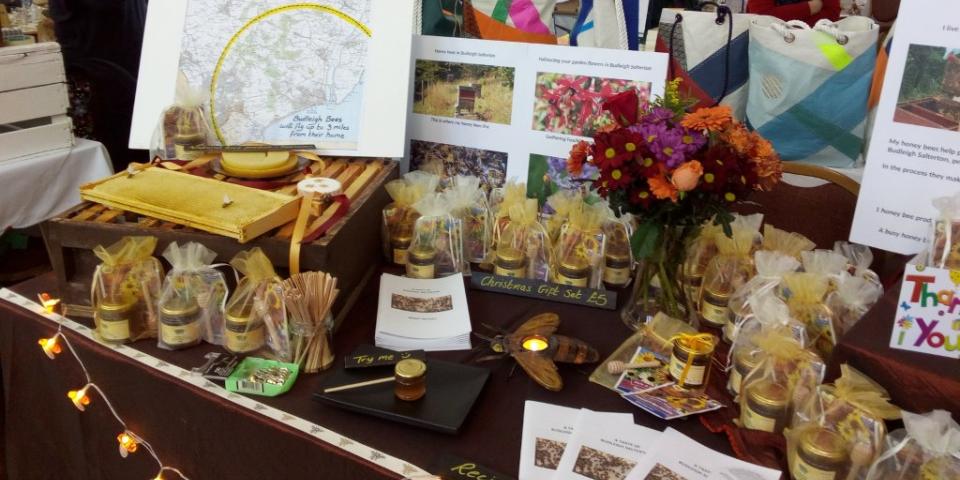 It's been a long day and it's now time to put my feet up this evening knowing that I've changed some minds! Yes, I managed to change the minds of four people who were adamant they didn't like honey. Having a taster pot to try of honey that's made right on your doorstep was a massive mind changer for them. Not only did they taste, but they also bought honey for themselves and as Christmas presents for their friends.
With nearly 40 stalls in Budleigh Salterton Public Hall, literally a stone's throw from where we live, there was a real feeling that Christmas had arrived with seasonal music playing before the children of Drakes School in East Budleigh sang Christmas carols in the afternoon. It was also a chance for myself to buy some stocking fillers too from other stallholders - oh and for myself I just couldn't resist a pair of bee earrings!
I wasn't there just to sell honey, but I was very keen to get the message out about what a wonderful pollination service our honey bees, and other insects, provide both in Budleigh Salterton and surrounding area so a little of today was about education. With the aid of a large map with the fly zone marked out, people were able to see how far the bees were willing to travel for forage. People could see where they lived on the ordnance survey map and it was lovely to see the penny drop when they realised that the honey could be coming from their own flowers - a magical moment to witness.
My dad was the very first person I gave one of my little honey gift sets to, so think he might be chuffed to pieces to know that the little Christmas gift sets I've made will help make a difference to our pollinators when the bee and butterfly mix, wildflower mix and sunflowers seeds are sown by those who receive them as gifts this Christmas. He'll also be chuffed to see his gift to me of a honey bee tea light candle holder burning brightly. As for the jars of honey, they will certainly make someone smile knowing that it was made from honey bees living and working in their home town - Budleigh Salterton.